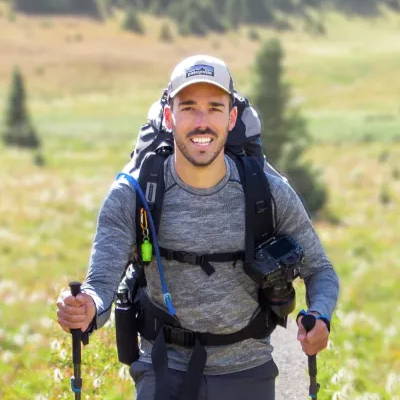 ---
I've called Canada home since 2016. Before that, I was living in the U.K. Moving to the mountains definitely sparked my love for the outdoors, and I quickly realized that I had a hunger to explore more. In the summer, I love to explore the trails by foot or on bike. In the winter, you'll find me on skis. I love the outdoors because, for me, it's a space to reset and reconnect. It's also a place to seek a fulfilling challenge–both mentally and physically.
What outdoor activity are you most passionate about, and how did you get started in it?
I love to hike. My grandad used to take me on long walks in the Yorkshire Dales, and I remember hiking Scafell Pike (England's highest) with my dad and really enjoying it. But it wasn't until I moved to Canada that I really got into it. My passion for hiking has taken me to the tops of some of Canada's most iconic peaks, and has evolved into overnighters and thru-hiking.
What's the most epic trip you've ever taken?
In September 2021 we hiked the West Coast Trail from south to north. This is a challenging 75km wilderness trail on a remote stretch of Vancouver Island's west coast, which is shared with bears, wolves and the occasional cougar. The trail consists of varying terrain–from dense, temperate rainforest to sandy beaches and immense boulder fields. Your route also takes you over 130 bridges, up and down 70+ ladders, and across 4 self-propelled cable cars–all with 40+ lbs on your back! It was an incredible experience, filled with epic views and awesome memories to last a lifetime.
What is your biggest/favorite outdoor adventure achievement to date?
In the summer of 2019, we did a 2-week long road trip driving 3,500km from Squamish, British Columbia, to Yosemite National Park and back. Along the way, we hiked in numerous iconic areas including Crater Lake National Park, Redwoods National Park, Lassen National Forest, and of course, Yosemite National Park. One of the highlights for me was hiking Mount Tallac in Lake Tahoe.
Which charity/advocacy organizations do you support or belong to?
In the past, I have done work with–and continue to support–LGBT Outdoors. They advocate for a more inclusive outdoor space where LGBTQIA2+ individuals feel welcome, safe, and represented. I also support a local initiative called Colour The Trails. Their aim is to provide access to the outdoors for BIPOC individuals by offering group events and outdoor adventure training.
What is your favorite pair of AKUs, and where do they usually take you?
My favourite pair of AKUs has to be my Superalp GTXs. Because they're GORE-TEX, they're great for any trail and in any weather–perfect for West Coast conditions! I also enjoy wearing them with my snowshoes, and they've taken me to many alpine lakes in the depths of winter.
What is the most important piece of gear in your pack (excluding footwear)?
It has to be my camera. It goes on every hike with me!
What do you hope to accomplish next in the outdoors?
I've been slowly getting into rock climbing, and it would be great to do more. There's so many awesome climbs close to where I live.
---