ELICA STRIDE SYSTEM
Biodynamic Comfort

The ELICA natural stride system is an intigrated combination consisting of the boot's last, insole board, midsole, and outsole. By intigrating the construction of these components every pair of AKU boots and shoes follow the anatomical shape of the foot so that it adapts to normal heel and forefoot inclination to reduce impact and strain.
ELICA Technology ensures an anatomical fit to provide better stability and weight distribution across your boot sole to reduce pressure points and encourage better form while moving.
A more even distribution of pressure during your entire stride
A more centered load while standing and during your stride, giving you a better bosture with heavy loads.
Less fatigue due to the anytomic fit and more natural stride.
Better arch support during midstance and lower pressure during the toe-off phase.
Reduced foot impact due to more evenly distributed preassure
See how the ELICA Stride System is constructed and how it will help you conqure more in comfort.
WHAT PEOPLE SAY ABOUT ELICA
CERISM LAB - Muscular Skeletal Testing Lab
Since 2010, Cerism has been carrying out research and laboratory tests regarding sports activity in the mountains, with the aim of measuring physical performance and materials. The tests carried out at the Rovereto site, contained in a dossier released by the Research Institute, confirmed the biodynamic efficiency of the Elica system to the advantage of the rolling mechanism, resulting, in prolonged use, a lower impact on the skeletal system and muscular.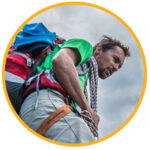 INGO IRSARA - Proffesional Alpine Guide
"I have been carrying out field tests and have been using AKU footwear for years as a mountain guide. In particular, in long-lasting treks, even with relatively heavy loads on the shoulders, I was able to verify the high comfort of the Elica system in the absorption of shocks and in the support of the rolled, with the result of an overall lower fit ".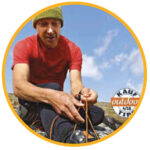 BORIS GNIELKA  -  Chief Product Tester Redaktor Outdoor Mag
"The new asymmetrical construction of the sole with Elica Natural Stride System technology ensures a uniform load on the sole of the foot. Alterra has shown how effective it is in many two-day excursions and trekking through cultivated fields ".
Every Pair of AKU Boots and Shoes are Built with the ELICA Stride System